290 downloads
New Annville History Book Designed for Families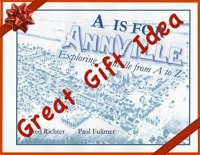 A is for Annville engages children in the history of a historic Pennsylvania community through the creative display of hundreds of photographs and dozens of thought provoking questions. As young readers and their parents, relatives, or older friends explore the pictures and questions together, their knowledge of Annville's distant--and not-so-distant--past grows, enriching their lives in the community.
Copies of the book are available now and may be purchased until December 18, 2017 for just $15 each, or purchased after December 18, 2017 for the regular price of $18 each. (Prices include sales tax).
The books may be picked up at 102 Locust Street in Annville free of charge. Alternatively, copies may be delivered to addresses within five mile  of Annville Township for just $2/order. Or, up to 3 books will be mailecl any place in the contiguous 48 states for $5/order.
90 pages. Paperback with color. Profits to the Friends of Old Annville. A is for Annville was wiitten by Fred Richter and Paul Fulmer.